ADVANCED TRUMPJET FLASH MIXING TECHNOLOGY
TrumpJet® Flash Mixing is a highly effective system to mix process chemicals into the main process in a fast, effective and uniform manner. It improves paper, board or tissue quality, but also improves economy by cutting down chemical consumption by 20…60% often even more and eliminates completely the use of fresh water or clean filtrate in post additive dilution. TrumpJet Flash Mixing Reactor system, located just before headbox, leads a way to more efficient operation.
In a TrumpJet Injection mixer, the chemicals are injected into the main flow with a high speed, high open area liquid jet resulting to a chaos type of fast mixing of chemical or chemicals. Finally in flash of time chemicals are dispersed into tiny droplets, drops and ligaments that react uniformly with process media and solids. Injection liquid is taken from the initial process flow and is typically circulated headbox feed stock.
For paper, board and tissue production the technology can be exploited for all product grades from specialty and printing papers to various board grades and tissue and towel.
Typical chemicals are retention aid polymers, micro and nano particles, silica, bentonite, size like ASA or AKD, starch, wet and dry strength additives, dye, pigment and fille materials an many others. Chemicals can be added in premixed groups. The fast TrumpJet Flash Mixing makes it possible to bring wet end chemical very close to each other into a TrumpJet Flash mixing Reactor and locate the Reactor pipe very close to headbox of board or paper making line for the most effective and cost saving results.
BENEFITS OF TRUMPJET TECHNOLOGY AT PAPER OR BOARD MILL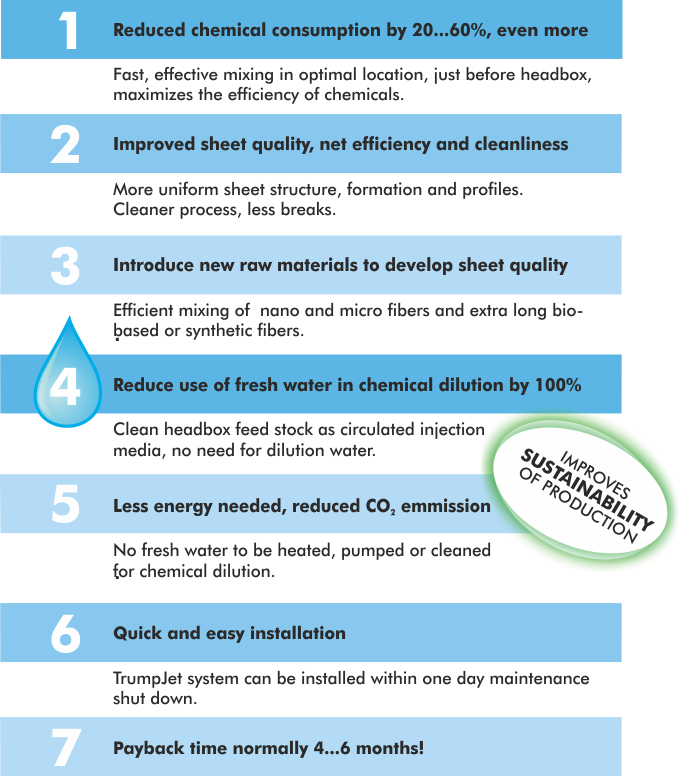 THOROUGH AND UNIFORM MIXING WITH TRUMPJET
TRUMPJET CUSTOMER SERVICE 24 H
CALL +358 10 836 0111