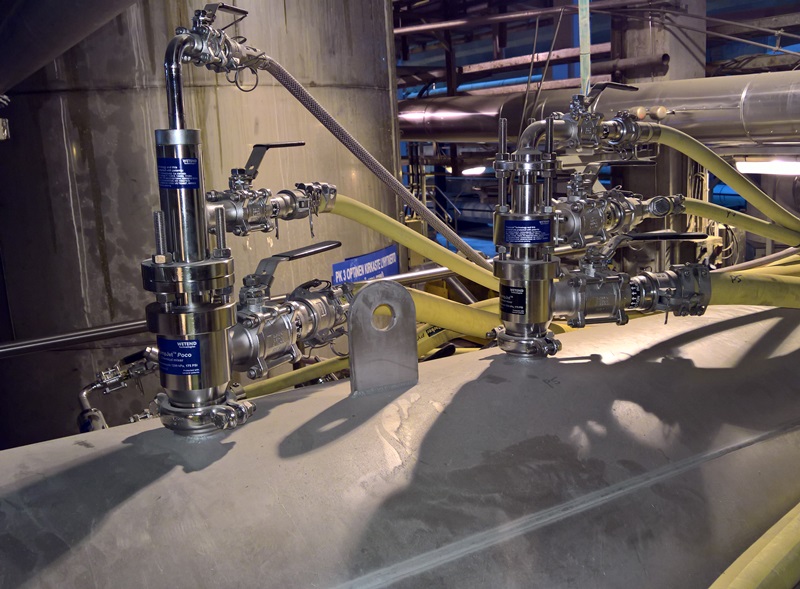 Chemical mixing efficiency in figures
Based on the mill results of more than 650 supplied mixing stations, chemical consumption reduces by 20-60% on average, water consumption in post dilution – by 100%. Optimal chemical mixing location improves the runnability and stability of the process, and makes wet end chemistry easier to control.
SAPPI Stockstadt Mill, PM1, Germany
"We got better machine total efficiency, and reduced chemical, energy and water consumption…"
91% fresh water savings
69% lower energy consumption
18% lower chemical demand
65% less time is lost due to specific breaks
Mitsubishi Paper Mills, PM7 in Hachinohe mill, Japan
"A great reduction in production costs and increase in productivity"
39% reduction of retention aids
3,5% production increase
33% extended shut-down cycle
33% prolonged lifetime of felts and wires
NewPage Wisconsin Rapids, PM16, USA
"The rapid and thorough mixing had an instant impact on performance."
43% savings of retention aid silica
33% savings of retention aid polymer
300 000 m³/a fresh water savings
14 650 MWh/a energy savings
5% increased filler content of sheet
8% increase of reel speed
Sun Paper Honghe, PM31 and PM32, China
Excellent results followed by new repeat orders
1 m3/ton of paper fresh water savings
30-100% chemical savings
Excellent runnability
Better formation
Good product characteristics: low basis weight, high strength, good folding resistance, high ring crush strength
Linerboard and corrugated medium production line, Russia
100% retention aid polymer savings and fresh water savings
100% retention aid polymer savings
Starch operates both as strength agent and retention aid
15-20% strength starch savings
10% AKD savings
Fresh water is no longer needed for chemical post-dilution
Folding boxboard board line, Europe
Better performance and reduced consumption
25-35% starch savings
Other chemicals: positive development in performance and savings in consumption
Better formation
Fresh water savings
Several eductor systems replaced in/removed from all the plies
Folding boxboard and liquid packaging board line, China
TrumpJet® Flash Mixing Reactor gives a massive boost to efficiency and sustainability
20-50% chemical savings
Better formation
10-20% increase of machine speed
1,8 mill m3/a fresh water saving
80000 MWh/a energy saving
Liquid packaging board line, Western Europe
Reduced bacteria growth with less biocide chemical
More efficient chemical mixing
Improved biological growth control
Reduced consumption of biocide chemical
Disappearance of biocide smell in the stock preparation area
Injection with white water
Label paper line, Europe
Zero water consumption and significant improvement in retention
No fresh water used. Chemical injection with headbox stock.
Improved retention and retention control
10-15% retention aid savings
25-40% reduced consumption of sizing agents (50% for AKD)
8% reel speed increase
Release paper line, Europe
Fresh water savings, reduced chemical demand, higher quality
360 m3/day fresh water savings
10-20 m/min machine speed increase
20% improved formation
20-30% lower polymer consumption
10-20% ASA savings, improved retention of ASA, more uniform sizing
Label paper machine, China
30-Day Investment Return
20% retention aid APAM savings
20% retention aid Silica savings
20% sizing agent AKD savings
20% sizing agent PAE savings
Good paper quality and production runnability
The usage of fresh water or filtrate for chemical mixing is eliminated
30 days payback time of the investment
Pulp mill, Finland
White liquor oxidation
"TrumpJet Flash Mixing improves efficiency of oxidation in the white liquor vessel.
It works very well. Surprisingly good and simple solution with no need for the conventional reactor."
DIP/Newsprint, UK
Dissolved air flotation
TrumpJet® Flash Mixing in a tertiary clarifier improves efficiency
Efficient flash mixing of additives
Dissolved air injected through TrumpJet mixers
Micro air bubbles (< 50 µm) can also be generated
Mill fresh water system, Finland
Water treatment
TrumpJet® put an end to the complaints of the water user
Better chemical mixing improved system operation
Stable pH, less variations
Removal of organic solids: before 65%, after 75%
Release paper mill, Europe
Defoaming
Defoamer agent mixing into a wire pit.
Improved chemical mixing
50% chemical savings
Foam build-up and gas volume in
control
No chemical overdosing
Improved response to control
Improved cleanliness
Injection with circulated white water
DIP/Newsprint, Northern Europe
Sludge dewatering
Zero fresh water consumption for chemical mixing
35% polymer savings
Operation became stable and homogenous
Good, much improved runnability
No unscheduled service is needed any more
Consistency after gravity table increased 1…2%
Total system capacity increase
Pulp and paper mill, Finland
Sludge dewatering
Injection of polymer using sludge with TrumpJet Trombone
Automated self-cleaning mechanism; most suitable for applications where there are obstructive particles in the injection stock.
Superb runnability